The Art of Madhubani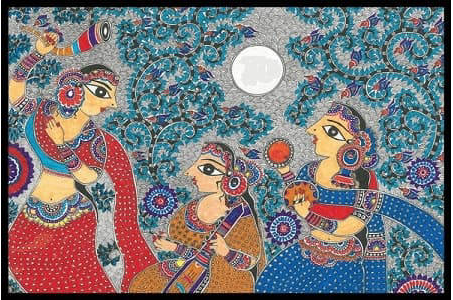 The age of post-modernization is not just definitive of rapid technological advancement, but also a revival of the rich ancient past. One of the most influential and distinctive art forms to have ever emerged out of India undoubtedly is Madhubani painting. Mostly associated with regions around Nepal, Bihar and the Mithila region, it is also known as Mithila Art. Madhubani Art often makes use of unique characteristics of complex geometrical patterns. This is so integral to people's lifestyle who practice it, that women decorate their house walls and doors with this art so as to seek the blessings of God for peace and prosperity.
Origin: There is no definite reference to when did Madhubani Art come into being, however, mythology claims that it came into being around the time of Ramayana when Janaka, the king of Nepal, wanted to decorate his kingdom to celebrate his daughter Princess Sita's wedding to Lord Rama, King of Ayodhya. Going by material evidence, elaborate wall paintings or Bhitti-Chitra in Nepal and Bihar played a prominent role in the emergence of Madhubani Art. Etymologically, Madhubani means Forest Honey 'Madhu' - honey, 'Ban' -forester the wild) is still a region in Mithila and still a dialect and identity in common currency believed to date as back as 2500 years. Furthermore, the original inspiration for Madhubani Art emerged from the womenfolk's craving for religiosity and an intense urge to be in union with God. With the belief that painting something divine would achieve that desire, women began to paint pictures of gods and goddesses with an interpretation so divine that it captured the hearts of many. These paintings that were traditionally created by the women of the Brahmin, Dusadh, and Kayastha communities in the Mithila region evolved an art form that originated in the Madhubani village of the capital city of Ancient Mithila, known as Janakpur and has remained confined to a compact geographical area with the skills passed on through generations and centuries. Even the content and the style of this art form have largely remained the same.
Style & design: Madhubani painting traditionally involves fingers, twigs and matchsticks. In recent, pen nibs have also come into use. It is painted with natural bright colors which are often made using a paste of cow dung and mud to develop in it a better texture. The outline of the painting usually has its frame made from rice paste. The juice of Kusum flower is often used for crimson hue, blue from indigo, turmeric extract for yellow, red from sandalwood and so on. The artists often use different natural materials for their color needs. This process of using natural colors adds to it a natural texture that can be felt on closely watching Madhubani paintings.
Art & social formation: Madhubani Art has five distinctive styles, namely, Bharni, Katchni, Tantrik, Nepali and Kohbar. In the 1960s, Bharni, Kachni, and Tantrik style were mainly done by Brahman and Kayasth women (considered upper-castes) in India and Nepal. Their themes were mainly religious and they depicted Gods and Goddesses in their paintings. On the other hand, people of lower castes and classes included aspects of their daily life in their paintings. The Godna and Kohbar styles, for instance, are the preserve of the Dalit and Dushadh communities. Kohbar paintings are usually made by a to-be bride's family as a present to a to-be groom's family.
Revival: The domestic ritual activity, Madhubani painting, unknown to the outside world come to public attention only after the 1934 India-Nepal border earthquake. Poetically, the quake brought houses down and the artistic relics out in the open to the public eye. It was the British colonial officer posted in Madhubani at the time, William G. Archer, who discovered the paintings while inspecting the site on the otherwise hidden walls of the homes there. His observations about the paintings claimed to find a stark resemblance between Madhubani Art and paintings of artists like Miro and Picasso as found in Western domestic households.  He took black and white photos of some of these paintings, which today are the earliest images of the art. In addition, William G. Archer also wrote about the paintings in a 1949 article in 'Marg' an Indo-Nepal Art Journal. Thus began the spread of Madhubani Art. Years later, the drought from 1966 to 1968 crippled the agricultural economy of the region. As part of a larger initiative to bring economic relief to the stricken people, Ms. Pupul Jayakar, the then Director of the All Indo-Nepal Handicrafts Board, sent the Bombay-based artist Mr. Bhaskar Kulkarni to Mithila to encourage women there to replicate their mural paintings on paper in order to facilitate sales as a source of income to ensure survival. The contribution of foreign scholars in promoting the art form internationally has also been immense. Yves Vequad, a French novelist and journalist, wrote a book in the early 1970s on the basis of his research on Mithila painting and produced a film 'The Women Painters of Mithila' Since the 1990s, Japan has also shown a keen interest in Madhubani paintings, mainly because of the initiatives of Tokyo Hasegawa, who set up the Mithila Museum in Tokamachi, where around 850 Madhubani paintings are exhibited on a regular basis. As a result of all these initiatives, Madhubani Art is well known all over the world today.
Recognition: In 1975, Madhubani painting received official recognition when the President of India awarded the Padma Shri to Jagdamba Devi, a resident of   Jitwarpur village near Madhubani. This was around the time when Madhubani painting had started to receive acceptance. In 1981, Sita Devi was awarded the Padma Shri. In 1990, Ganga Devi of Mithila was awarded the Padma Shri. Mahasundari Devi was awarded the Padma Shri in 2011. Furthermore, Baoa Devi, Yamuna Devi, Shanti Devi, Chano Devi, Bindeshwari Devi, Chandrakala Devi, Shashikala Devi, Leela Devi, Godavari Dutta, Bharti Dayal, Chandrabhushan, Ambika Devi and Manisha Jha were also given National Awards.
Art cannot be measured by tangible means like State awards, however, with official recognition, Madhubani painting has been successful in spreading its word around the world. Today Madhubani painting makes India proud by representing to the world its rich cultural heritage.